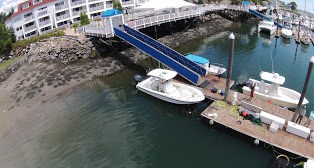 Our vessel, the Miss Jodine, is berthed in a slip at "E" Dock at the Wentworth By the Sea Marina which is in the prime Seacoast fishing area of Little Harbor. Our location here in the seaside village of Newcastle, NH puts us adjacent to the Atlantic Ocean and extremely close to the inland rivers. In other words, closest to all the fishing action.
With our boat, you'll never experience long, back-breaking runs in a small boat up or down the river just to get to fish. Our location says it all. Plus, since we have our own slip, we do not meet at a boat ramp or outsource to other captains. When you book with Shoals, you'll step aboard the Miss Jodine at the Wentworth By the Sea Marina at my slip and we are ready to go in comfort and safety. The marina has a dockside Restaurant and Bar which are available for all my clients use and the marina is adjacent to the Wentworth By the Sea Hotel and their Riverside Bar, Latitudes. We can also pick up guests at the Kittery, Maine Town Dock.
Note: We are very flexible with times and tides. A typical day can start early in the morning 5 or 6 am based on tides. The Captain reserves the right to cancel or terminate trips due to weather, safety or sea conditions. No alcohol or drugs are allowed onboard as per USCG regulations. We provide premium tackle which includes leaders and flies. In the case of lite tackle bait trips we will also provide live bait – and clients will help us catch it – if necessary!
Fly or Light Tackle Fishing
Rates 2022 Season for 2-4 Anglers. All rates are for the Boat for a half day, 3/4 day, or full day on the water. We can accommodate up to 4 anglers – please contact the captain for larger parties. We accept Visa, Mastercard, American Express and Checks for payment. Rates are as follows:
Half Day 4-5 hours $500
3/4 day 6-7 hours $600
Full Day 8 hours $700
Tuna – please call captain!
You can also book online here!
OR contact the Captain directly.
In New Hampshire and Maine, Striped Bass (Striper) season typically runs from late May until mid-October.
Beverages and snacks are provided for all trips at no charge. A saltwater license is provided for both New Hampshire and Maine waters. Captain Whelan is a USCG Captain and Registered Maine Tidewater Guide — and the Miss Jodine has a New Hampshire charter boat permit along with an NMFS Permit.
Tuna Fishing
Inshore Tuna season is generally mid to late July through September. Please call the captain for the latest information on tuna and offshore conditions.
All Tuna tackle is provided which includes fly, spinning and offshore reels, and bent butt rods. Beverages and snacks are provided for all trips. In times of excessive fuel prices, there may be an additional fuel surcharge on Tuna Trips. I prefer to take 3 anglers on these trips. Your Captain has an HMS Tuna Permit in the Charter/Headboat category — the boat is permitted in both in federal and state waters — so a New Hampshire or Maine saltwater license is not required for all trips. Please contact the captain directly when inquiring about Tuna fishing.